Monthly Archives:
October 2012
October 24th, 2012
Posted in Journal
|
Comments Off

on Backyard . . . After Looking at Atget
October 22nd, 2012
I spent a couple quiet hours on Saturday afternoon with these 4 volumes. It has been a long time since I pulled the books down from the shelf. The mood was just right with October doing its transcendental things above and around me. I procured this set from 2 sources over the duration of my junior and senior college days. I have only looked at the books 3 or 4 times in the last 15 years. No doubt, Atget's images strike home a bit more with each viewing. Though his home of Paris is across the sea, a place I have yet to visit, the scenes within his frames resonate somehow internally. I liken the impact of Atget's photographs to the ancient sounds of an oboe, or lute, when the needle is dropped on a vinyl recording of Bach, transposed . . . and as if the glass plate images aren't enough, you get the embellished writings and meditations from John Szarkowski and Maria Morris Hambourg, who both show their utmost appreciation for the dedication of one Berenice Abbot. These images are largely derived from her acquired archive of Atget's, which she sold to the MOMA in 1968. The collection of Abbot's and her persistent promotion of Atget's work in America during the 1930's is largely the reason for his massive recognition to the international world of photography. His images will forever be timeless despite their growing antiquity. Atget's photographic formula was simple, without manipulation, peering frontal and "straight" at his subject. His photographs of French vernacular and the ephemeral places of Paris transitioning into the 19th century could have no other affect, but to influence photography's makers depicting the world in his wake. The more I look at the photographs, the less I think of their historical importance as documents, but rather the poetic charge the toned plates disperse.
Posted in Journal
|
Comments Off

on Owning "The Work of Atget"
October 17th, 2012
Offset press proof of some images featured in my upcoming book "Trying to Find the Ocean" . . . with a little bit of fussing, the printer and I have settled on the right paper stock. Tentative release date is January, 2013. I'll keep progress posted on my blog here. Thanks for looking, as always.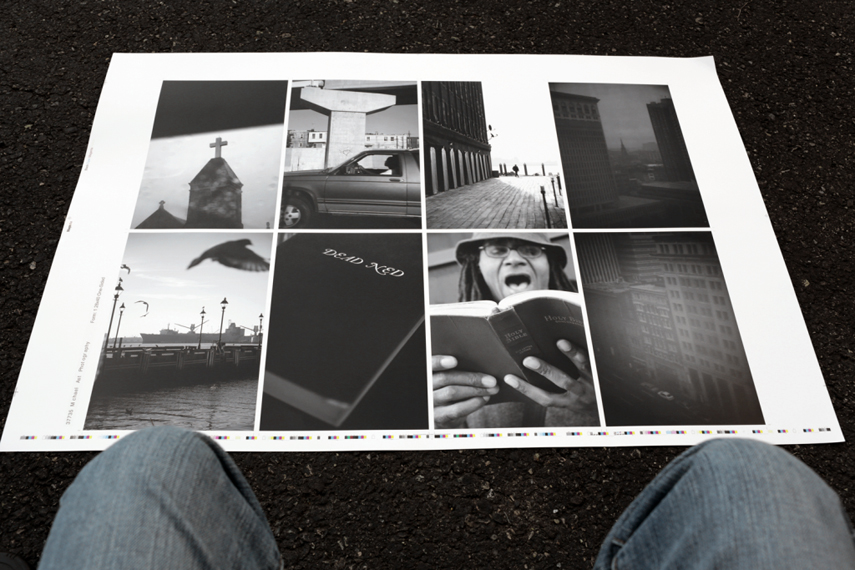 Posted in News
|
Comments Off

on Making Progress